MOLECULAR BIOLOGY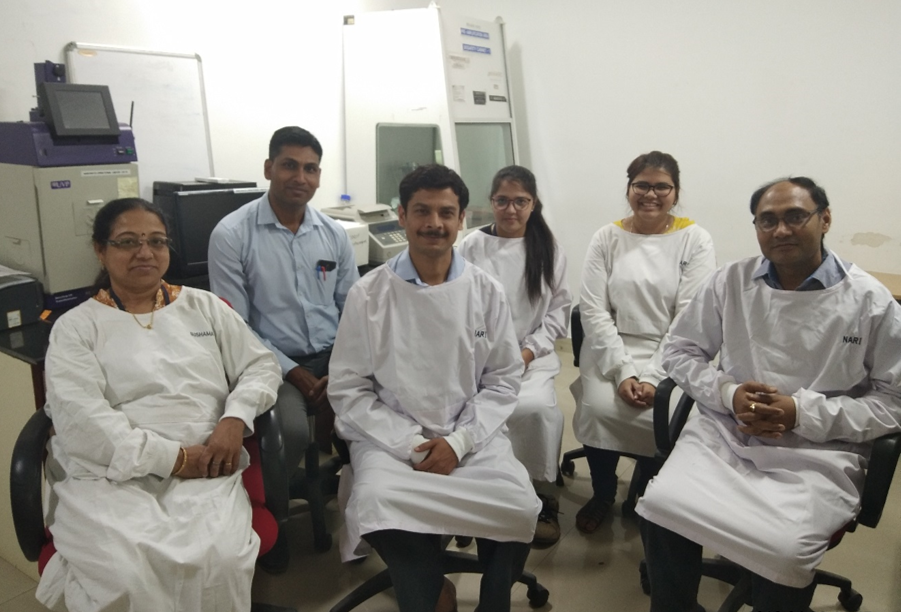 From Left: Front- Mrs. Sushama Jadhav, Technical Officer C; Dr. Vijay Nema, Scientist E; Dr. Hariom Singh, Scientist D
From Left: Back- Mr. Vinod Taywade, SRF; Ms. Tooba Momin, Research Assistant; Ms. Sneha Patki, Trainee
The division is working in the area of host genomics, HIV-1 nef virotoxin, microbial drug resistance, metagenomics and bioinformatics approach to find inhibitors of chemokine receptors involved in tuberculosis disease under the overall supervision of Dr. Vijay Nema.
The work on host genomics and Pharmacogenomics is being led by Dr. HariOm Singh, wherein he has been looking for polymorphism in various genes having roles in disease susceptibility, progression and response to treatment. Genetic risk to HIV related comorbidity like HAND, Pathogenesis of ART- induced metabolic complication like HIV-associated lipodystrophy and Response to treatment of NNTRI induced hepatotoxicity are the primary areas of work. Response to treatment of antiplatelet, anticoagulant drug induced MI, IS and bleeding and response to treatment of docetaxel induced prostate cancer etc. are the other areas of his interest. Dr. Singh recently completed the NIH-OAR training fellowship visit wherein he analyzed the comparative information on gene expression patterns of Apo family of lipoprotein genes in patients with and without HIV lipodystrophy while working at the Department of Medicine at University of Buffalo, NY, USA.
The division is helping all other users especially PhD scholars from all the divisions for executing molecular work. Mrs. Sushama Jadhav has been given the responsibility of handling sequencers and real time PCR instrument in order to keep the machines up and running for usage of all users in the institute and outside requests, if any along with her PhD under Dr. Vijay Nema. Currently two projects are being handled by Dr. Vijay Nema. A project for deciphering the mutation pathway in tuberculosis has been initiated with the funding support from DHR while a collaborative project was initiated in the field of metagenomics analysis of fecal samples from obese population before and after naturopathic treatment as supported by National Institute of Naturopathy (AYUSH). Work on chemokine receptor antagonists using bioinformatics was also accelerated after getting collaborative support from IIIT-Allahabad. A trainee student, Ms. Sneha Patki could optimize a few PCR reactions for definitive molecular diagnosis of important classes of antibiotics. The validation of the same is planned for future studies.